Halibut in Sicilian Sauce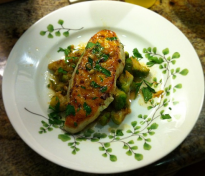 1 tablespoon coconut oil
1 onion, diced
2 cloves garlic, minced
1 red bell pepper, diced
3 tablespoons raisins (optional)
1-2 tablespoons apple cider vinegar or lemon juice
1 teaspoon dried oregano
½ teaspoon sea salt
4 halibut steaks or fillets
2 tablespoons fresh parsley, chopped
In a large pan, sauté onions in oil at medium heat until translucent, about 8 minutes.
Add the garlic and bell peppers, and cook until tender, about 10 more minutes.
Add the rest of the ingredients except for the fish and parsley, and cook for a few more minutes.
Place halibut on top of sauce. Cover and cook for about 8 minutes or until fish is completely cooked in the center.
Check by inserting a knife into one of the fillets or steaks.
Sprinkle the chopped parsley over the fish and serve.
This recipe is compatible with the following diets:

Corn-Free
Dairy-Free
Diabetic
Egg-Free
GAPS: Dairy-Free
GAPS: Egg-Free
GAPS: Full
GAPS: Nut-free
Gluten and Casein-Free
Gluten, Dairy and Soy-Free
Gluten-Free
Nut-Free
Paleo
SCD Diet
Seafood/Vegetarian
Nourishing Foods
Weston A. Price/Traditional Foods
Calories:
262
Fat:
8g
Carbohydrates:
11g
Sodium:
330mg
Fiber:
2g
Protein:
36g
Cholesterol:
54mg
Recipe by
Angela Atkins
at http://yourhealthunbound.com/halibut-in-sicilian-sauce/